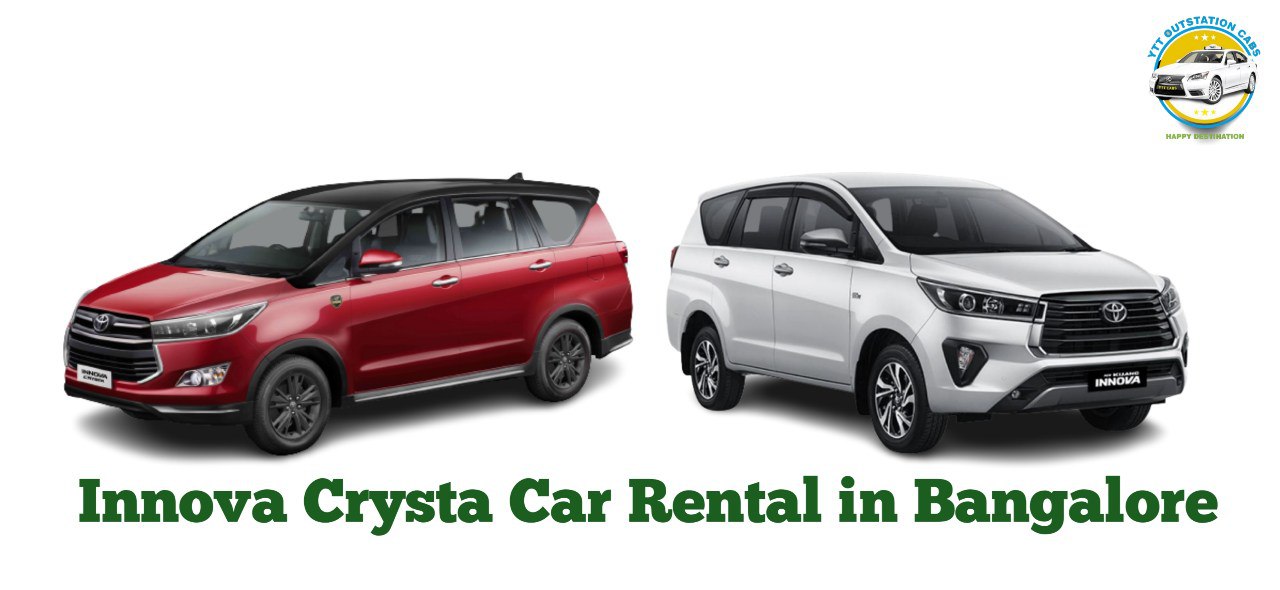 Innova Crysta Car Rental | Innova Crysta Car Rental Service
Sudhakar RCS ,

Outstation's Innova Crysta Car Rental Service is the only Car Rental Service you would need!

The best Innova Crysta Car Rental Service is here. We have a massive variety of luxury cars to rent all over India in various budget ranges. Innova Crysta, with a seating capacity of 7-8 seater, is a perfect car for family trips. It is a spacious car with a practical cabin, bullet-proof reliability, beautiful exterior and interior designs, and seven airbags. Hire an Innova Crysta from us at the best possible price.
But first things first, why should you hire an Innova Crysta after all?

Innova Crysta has multiple attributes and qualities:

A 7/8 people-seating capacity.
A spacious cabin.
Offers sufficient legroom for the passengers even in the last row.
It is perfect for moving not only people but also luggage.
It has separate spaces to put things like your phone, wallet, cup, and other miscellaneous items.
It can reach a speed of about 100km/hr.
Hire an Outstation Innova Crysta from Bangalore to ride to your favorite places

We offer a comfortable, safe, and low-cost taxi service. We also provide an easy method to book a taxi using our website (www.outstation-taxi.com) . We have a huge pool of cars to choose from for different travel plans.

Our Innova Crysta Car Rental Service offers you options to travel to work, home, restaurants, conferences, colleges, schools, shopping malls, hotels, airports, wedding parties, railway stations, bus stations, temples, etc. Book now to get a convenient ride to your favorite place!

Hiring a cab from us will let you travel alone or in a group. We provide a 24/7 cab service in Bangalore to satisfy all the travel needs of our customers. We have affordable prices and customer service to cater to your needs along the way.

Hire an Innova Crysta for your Travel Plans at the Most Economical Prices ever

Innova Crysta offers excellent mileage of 11-16km/l combined. With our expert chauffeur-driven Innova Crysta, you can travel to any place without waiting for a cab or some public transport. Book an Innova for Rent in Bangalore We take care of our vehicles to provide quality all the time. We have AC & Non-AC Innova to fulfill your need for luxury and fit your budget. Rent an Innova Crysta to get yourself a comfortable and secure ride to and from Bengaluru Airport, Local Trip, Outstation Trip, etc.
We are punctual enough to pick and drop our customers at the time given by them and courteous enough to wait for them if their flight is late.

Complete with unparalleled connectivity, comfort, security features, and raw power delivery, it gives you a genuinely worthwhile traveling experience. A seating capacity of 7-8 people makes the journey a total delight. Ride with our Innova Crysta at low prices. Hire our Innova Crysta for trips from the airport, outstations, one-day trips, personal and professional needs, etc.


To know more about our services call us on the Toll free numbers: +91 9972555713 +91 7676671797 +91 9900926533 or drop a mail at Customercare@outstation-taxi.com

Our expert team will get back to you as soon as possible!.