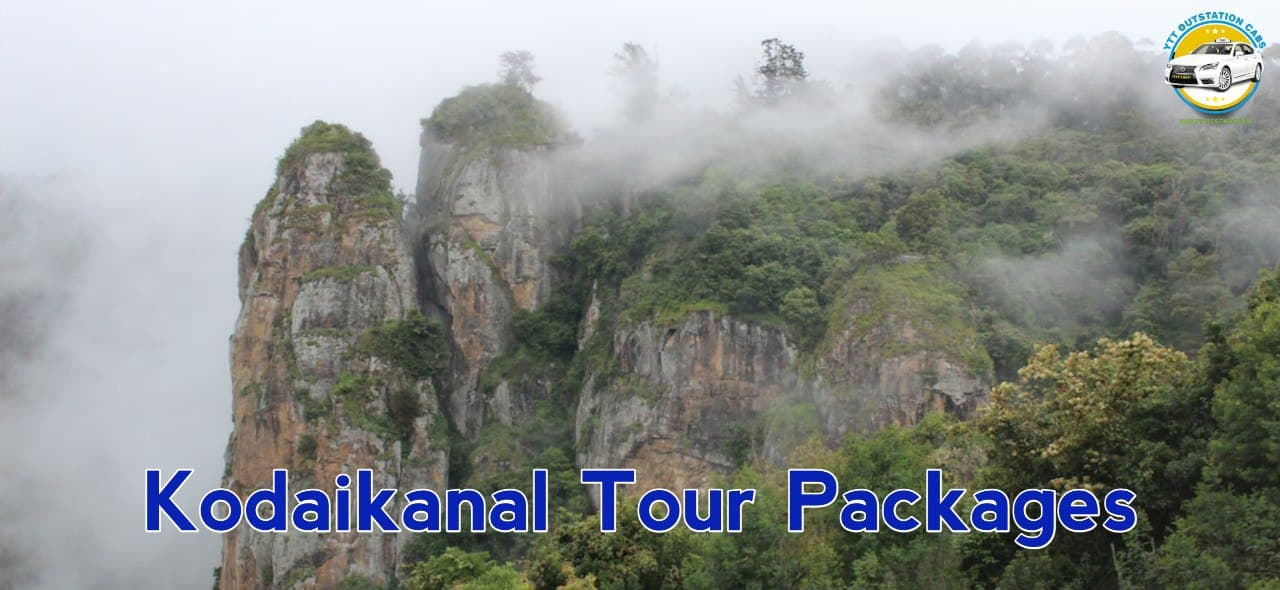 Kodaikanal Packages from Bangalore | Kodaikanal Trip Package
Sudhakar RCS ,

Kodaikanal is a hill station located at an altitude of 2135 meters, in the eastward hills in Tamil Nadu. Kodaikanal has pleasant climate conditions throughout the year. Its leisurely pace of life, charming hills captivates the tourists. Kodaikanal has amazing mountain vistas, stunning lakes, and deep forest that works as a paradise for nature lovers and holidaymakers.
Apart from being a beautiful hill station, Kodaikanal is also famous for the Kurinji Flower that blooms once in 12 years in the month of December and it envelops the valley in a mesmerizing sea of blue color.s
The meaning of Kodaikanal is "gift of forest" and this place was discovered in the 19th century by the Britishers who used this place as their summer capital. Later tourists started coming to the place and it emerged as one of the famous tourist destinations in India. For nature lovers and travelers there is admirable silence and several options to explore in the city. From taking a walk in the hills to boating, to exploring caves and offering prayers, this place has endless things to do.
Located at the Pillar of Rock, one of the prominent places to visit in Kodaikanal is Berijam Lake. The azure and calm flowing water of the lake is highly soothing and welcoming to the visitor's eyes. People who love adventure can head towards the places like Kumabkarai, Dolphin Rocks, and Pillar Rocks; spiritual travelers can offer prayers at Andavar temple.
Here are some of the must visit places in Kodaikanal listed by YTT Cabs Services from Bangalore. If you want to go on a solo trip or want to spend some time with your family, we have several Kodaikanal Packages from Bangalore which you can select and make your Kodaikanal trip more exciting and adventurous.
Kodaikanal Lake
In Tamil Nadu, Kodaikanal lake is one of the most popular tourist destinations. It is a star-shaped artificial lake which is located at an elevation of nearly 2290 meters above the sea level. This lake was constructed by Sir Vere Kentry Levinge (Madhurai Collector) in 1863. He shifted to this place after his retirement and built this immensely attractive lake.
This place is a house of different birds and has a five kilometers long path near the shores. Tourists come to enjoy the beauty and take a casual walk.
Coaker's Walk
Vacations are incomplete without having a visit to Coaker's Walk. It is an artificial walking plaza that was built in 1872 by Lt Coaker. It is now the most famous place to visit in Kodaikanal. You can take a walk or gaze at the green valleys. This place will give you lifetime memorable memories.
This one-kilometer track is made on the hillock slope and is among the most serene places in India. This place offers a picturesque view of the hills, and your shadow will be cast on the clouds.
Berjam Lake
One of the popular tourist spots in Kodaikanal is Berijam Lake. To visit this scenic beauty, one needs to take a permit from the forest department. The permit is available easily if one approaches a day before.
Boating is prohibited in this lake as the surrounding public gets drinking water from the lake. Beautiful surroundings of this place makes it a must go place for the tourists.
The place that offers bird eye view of the Vaigai Dam is the green valley. It is one stop to get the view of the enthralling cloud valley, lush mountains, and greenery. It is also considered as the dangerous point as the route is quite tricky, and it is at great height where standing can be unsafe. The mist takes over the clouds in the early evening, which can disrupt the view.
Bear Shola Fall
If you want to say hello to some fauna and species, then this place provides a glimpse of serenity, and privacy. This place is in a reserve forest, and it gets this amazing attention-grabbing name as bears visit this place to quench their thirst.
Bear shola Fall comes to life in the month of monsoon as it streams down the mountains. The white-water area is simply a perfect sightseeing view for tourists. Make sure to wear comfortable shoes, as the area is quite slippery and has monkeys.
Pillar Rocks
One of the must visit places for sightseeing in Kodaikanal is the Pillar Rock that gives amazing beauty of nature. This place has derived its name from the 3 rocks that are standing vertically, at the looming heights that are piercing the sky at 400 feet of height. Mist and fog play hide and seek with the beautiful pillars and makes the place look ethereal.
It is said that once there was a white wooden cross on these pillars that was supposed to be the symbol of love, but it has lost with time. You will fall in love with this amazing place.
Dolphin Nose
Dolphin nose is a viewpoint on a rock which is in the shape of a dolphin nose. People tend to do trekking to this point. For many people this route can be quite challenging as one has to climb up on a steep route. This place gives you a breath-taking view of the beautiful western ghats. You can also access the gorgeous Liril or Pambar Fall which is one of the hidden attractions here.
Silver Cascade Waterfall
This place justifies its name in every sense. It is a beautiful scenic stop on the way to Madhurai. Water is falling from a height of 180ft, and this place is ethereal. The water comes from the Kodai Lake and flows down with loud thuds. People take a dip in water when the weather is appropriate. The smell of herbal oils and chocolates from the vendors will make you want to buy them.
Kodaikanal has a lot for travelers. It will give you the best and memorable memories which you can cherish for your lifetime. If you are also looking for the best Kodaikanal Honeymoon Packages or want to travel Kodaikanal from Bangalore, then call us now.
We have many exciting Kodaikanal Famility Holiday Packages for your friends, family, or partner. To know more about our services contact us now!
To know more about our services call us on the Toll free numbers: +91 9972555713 +91 7676671797 +91 9900926533 or drop a mail at Customercare@outstation-taxi.com

Our expert team will get back to you as soon as possible!.