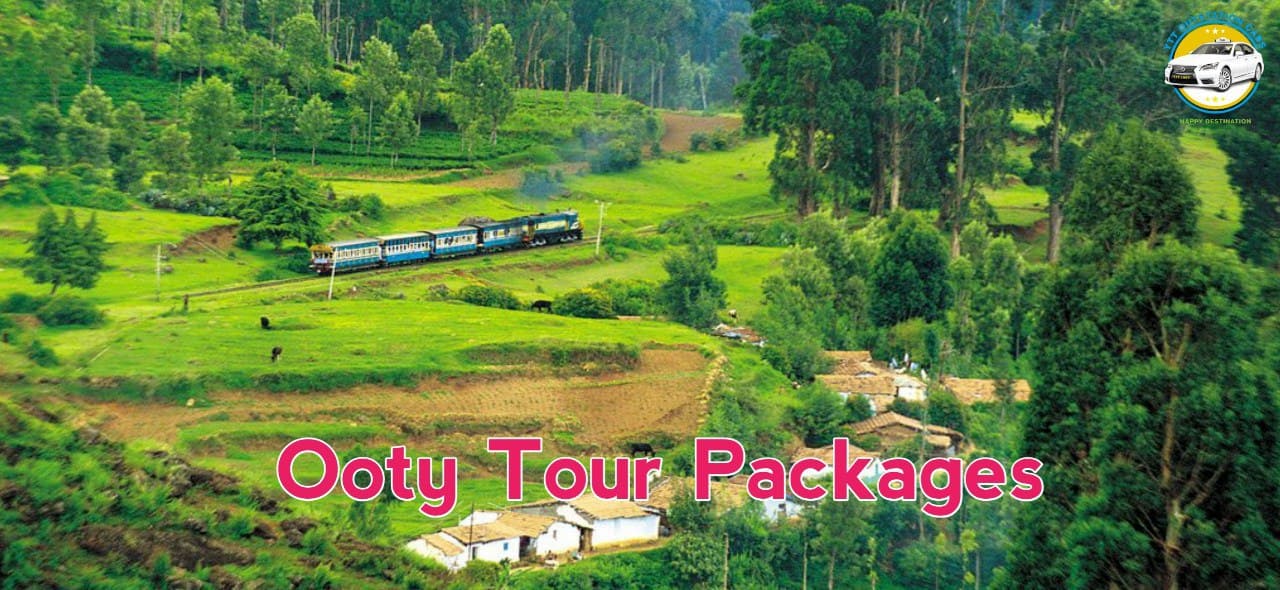 Ooty packages from Bangalore | Ooty Honeymoon Packages
Sudhakar RCS ,

Udhagamandalam or Ooty is the most popular hill resort in the Nilgiris range. This hill station is an amazing holiday destination for families, honeymooners, and friends.

Ooty always casts its charm on travelers with its lush valleys, undulating hills, beautiful lakes with scenic beauty. Ooty is the majestic queen of hills and often referred as queen of hill Stations. It is a place of breath-taking natural beauty.

Ooty is situated at an elevation of about 2250 meters above the sea level and is the best tourist destination in Tamil Nadu. There are ample of things which one can do in ooty that will fill you with good memories. Many travelers opt for Ooty Sightseeing Packages, where they get lost in the beauty of the queen of hill station. There are several Ooty Honeymoon Packages available, as it is one of the best honeymoon destinations for couples.
Ooty tea plantation and magnificent red roofed bungalows carry a touch of colonial past which fascinates travelers. Ooty will enthrall you with an amazing sense of wonder.


Do not leave Queen of hill station before you See
Fernhill Palace – This place is the residence of Mysore Maharaja. Fernhill palace was built on 50 acres of garden and eucalyptus forest in 1844. Today it is restored as an heritage hotel which gives you the feeling of a royal palace.
Emerald Lake – This beautiful lake is a hidden treasure and is located approximately 20 kms away from the main Ooty. This place is the perfect destination for those who want to keep themselves away from the madding crowd. The valleys that surround the Emerald lake multiply the beauty of the area.
Avalanche Lake – Another must visit tourist destination which offers an astounding glimpse of nature is the Avalanche Lake. This lake is located little away from the main Ooty city and its surrounding areas makes it ideal for camping.
Pykara Lake – Among the many lakes in Ooty, Pykara Lake is one of the most popular tourist places and it provides a majestic view of nature. This lake is in the deep forest and lush green valley. Once you spend some quality time at Pykara Lake you will be filled with delightful senses.
St. Stephens Church – St. Stephens church was built in the 19th century and is mainly known for its architectural grandeur. The church is flocked by a number of devotees round the year.
Shooting Point – As you move towards the shooting point acres of beautiful pastures welcome you. The amazing green meadows are a favorite shooting point for film directors. You can also track up to this point.
Botanical Gardens – These botanical gardens are spread over an area of 20 acres of Dodabetta Peak. The garden has a terraced layout and an array of flowers and trees welcome you as you enter the garden.
Do
Toy Train ride – The Nilgiris Mountain railway has been a UNESCO world heritage site since 2005. The toy train covers approx. 25 kms from Mettupayalam to Ooty. This train passes through 250 bridges and 16 tunnels.
Boating – Boating is one of the most popular activities at the lakes of Ooty and enthusiasts can opt for paddle, motor or row boats.
Tea Plantation Tour – Ooty hillsides are a prolific tea country. Several varieties of tea plants flourish around Ooty and a nice tour to these plantations gives an enlightening experience to the tourists.

When to visit ooty –

One can enjoy a pleasant and cool climate round the year. However, the best time to visit Ooty is in the summer – March to June. Ooty has moderate rainfall, therefore monsoon and winters are not harsh over here. Temperature can fall but exploring ooty in winters has its own charm.

Summers
Summers in Ooty start from mid-March to early July, when the weather is extremely pleasant here with the temperature from 20 degrees to 35 degrees Celsius. Ooty attracts the maximum number of tourists during these months.

Monsoon
Monsoons in Ooty start from July to September and it receives moderate to heavy rainfall. Exploring Ooty becomes a little difficult in these months as the roads become slippery. In these months the vegetation is at its best. Therefore, if you wish to explore the green side of the Ooty, then you can head there during monsoon.

Winters
Winters start in Ooty from October to February. The temperature falls to 2 degrees Celsius and makes it quite cold. Exploring Ooty in winters will be altogether a different experience.

How to Reach Ooty?
Ooty is one of the most popular hill stations in India, therefore it is easily accessible from rest of the parts via railway, air, and road.
With its flourishing tourism, Nilgiris hues are mostly traveled by roads. Ooty encircles India's major tourist destinations and cities. The distance from Ooty to Chennai is approximately 550 kms, whereas from Coimbatore it is 90 kms. One can reach Ooty from Madurai by road, which is approximately 290 kms. The distance of Ooty from Bangalore is about 270 Kms, which one can easily travel.
If you are in any other part of the world and want to enjoy the road trip to Ooty via Mysore, you can travel till Bangalore via flight and book a Ooty and Mysore trip from YTT Cab Services. Moreover, you can also choose the self-drive option via NH (National Highway) 181 from Coimbatore, whereas travelers coming from Bangalore need to take state highway 17 via Mysore.
The closest airport to Ooty is Coimbatore which is 88 kms from Ooty. Once you reach the airport, Bangalore Airport Taxis, buses and Cabs are easily available that will take you to Ooty.
Coimbatore again happens to be the closest railway junction; the toy train can also be taken from Mettupalayam station which is 52 kms away from Ooty.
Ooty is one of the most charming hill stations for those who are looking for serenity and peace. Its invigorating beauty and climate make it a perfect retreat from the busy life of the city. A vacation in Ooty will surely recharge your batteries.


To know more about our services call us on the Toll free numbers: +91 9972555713 +91 7676671797 +91 9900926533 or drop a mail at customercare@outstation-taxi.com

Our expert team will get back to you as soon as possible!.