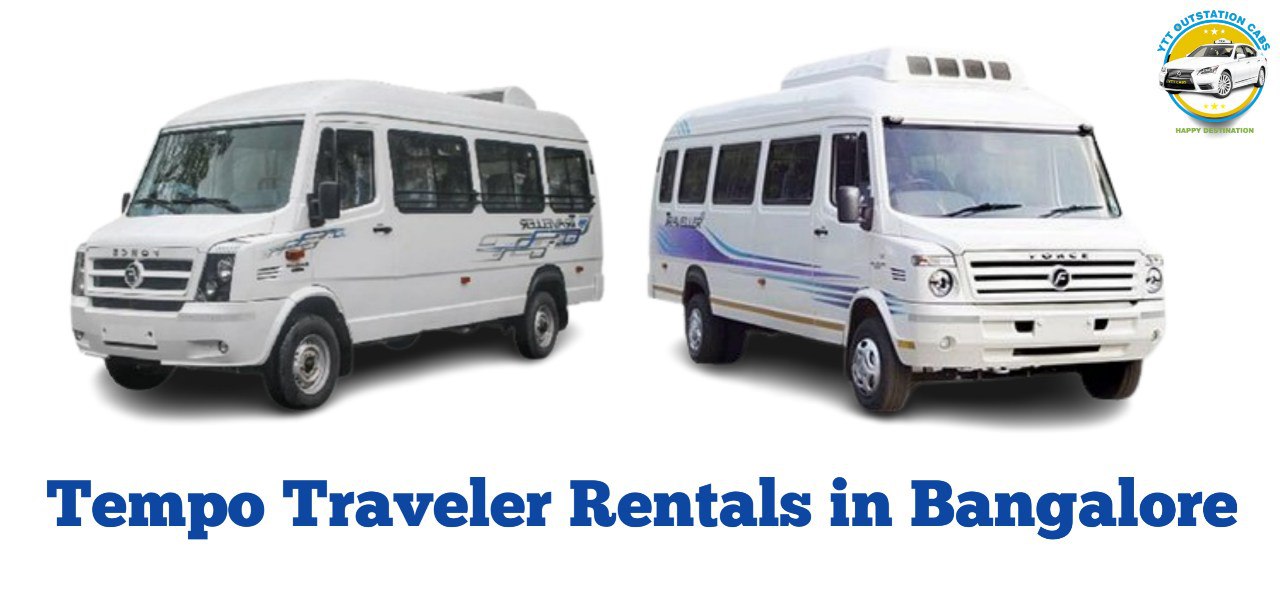 Tempo Traveller in Bangalore | Tempo Traveller Rental in Bengaluru
Sudhakar RCS ,

Book Tempo Traveller in Bangalore for Outstation trips
Tempo traveller is a type of minibus that is commonly used for travel when there are more than 10 people. Tempo traveller comes with a seating capacity of 12-30 people. It is available in many variants offered by different companies like Force, Bajaj, and Tata winger. Tempo traveller offers great luxury features and it is very comfortable when we talk about travelling in it.

When it comes to long excursions with family and friends, the Tempo Traveller offers a one-stop solution. A tempo traveller is quite roomy and comfortable and can accommodate a lot of things. We have both AC and non-AC Tempo Travellers Available, so you may pick the one that best suits you and your family or friends. In Bangalore, tempo travellers are available for both outstation and local journeys.

Why should you use us to book a Tempo Traveller Outstation ?

We offer Rental Services at the most competitive prices, ensuring that you get the best bargain on the cab of your choice. In Bangalore, as well as for outstation travel, tempo traveller rental services are offered.

A road journey offers an experience that cannot be equalled by any other mode of transportation. Road vacations allow you to explore real towns and natural wonders off the usual route. Road vacations are the ideal way to see the countryside and spend time with family and friends.

Tempo traveller is one of the most used vehicles to travel in big groups as it is luxurious, safe, spacious, has charging ports, enough space for luggage, etc.

Booking a tempo traveller is the best-suited option one has because its capaciousness is high, so there isn't any need to book 2-To 3 different SUVs, book one tempo traveller, and you're good to travel. Hiring 2-3 SUVs will cost you entirely hiring one tempo traveller.
Travelling in a Tempo Traveller: Tips

A few pointers to help you increase the quality of your trip while also saving time.

Before going, make sure to check the weather forecast for your destination and route and pack accordingly.

Carry some water and food with you so you don't have to stop frequently.

For any type of travel, planning is essential, and one should be more cautious these days, especially when renting a vehicle.

Pre-book your destination's accommodations as well, especially if you're travelling during the holidays or on weekends.


To know more about our services call us on the Toll free numbers: +91 9972555713 +91 7676671797 +91 9900926533 or drop a mail at customercare@outstation-taxi.com



Our expert team will get back to you as soon as possible!.